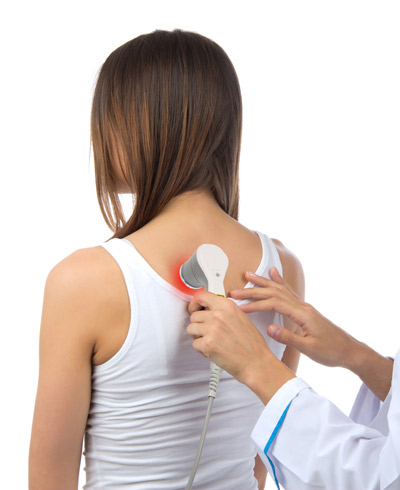 If you're like the more than 100 million Americans who experience chronic pain, you want effective relief, and you want it fast. Although we've been offering laser therapy for years at the practice, our new Aspen Class IV Laser is getting our patients even better results and with fewer treatments.
A Safe, Effective and Drug-Free Solution
Unlike some painkillers which often come with an array of unpleasant side effects, laser therapy is a natural, non-addictive and safe way to decrease inflammation, increase blood flow, relieve pain and stiffness, and accelerate healing. The laser light penetrates the skin and underlying tissue photons are absorbed by the cells and converted into energy increasing levels of water, oxygen and nutrients to the damaged area.
The FDA-cleared Aspen Class IV laser can address the following types of pain:
Arthritis
Back
Elbow
Foot and ankle
Knee and hip
Neck
Shoulder
Surgery-related
Wrist
What to Expect
Your treatment with this cutting-edge therapy takes only 5-10 minutes depending on the area that the laser is being used on. The procedure is painless, and you will feel the light deep into your body. You likely will experience improvement after 1-2 treatments.
Get Your Life Back
When you're sidelined with pain, you may experience anxiety, depression and stress that can diminish your quality of life. Thanks to laser therapy, you can find relief, get back to your favorite activities and just enjoy life more.
Schedule a Consultation Today!
If you're wondering if laser therapy can benefit you, we invite you to schedule a consultation with one of our chiropractors. We look forward to helping you get on the path to pain-free living!