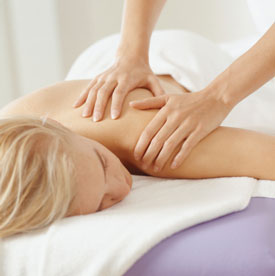 At Casses Chiropractic Clinic, PC, we're all about helping you get well and stay well for a lifetime, and that means helping your body set itself up for success. While chiropractic adjustments are an excellent start to rebalancing your nervous system and correcting the underlying issue at hand, we'd like to let you know how massage can work in conjunction with focused adjustments to bring even better results!
Massage helps the muscles to relax so that your muscles are not tempted to "pull" spinal bones out of alignment which allows you to be adjusted more easily.
Massage is wonderful for those suffering with chronic pain, acute injuries or for those wishing to relax.
Meet Our Massage Therapist
Our licensed massage therapist, Amie Quick, offers a variety of massage techniques for patients of all walks of life, including acupressure, deep tissue, myofascial release, orthopedic massage, prenatal massage, reflexology and Swedish massage therapy. Amie will work with each patient to develop the best course of massage care for them.
We're proud to offer a variety of massage lengths so that you can choose what fits your schedule and needs, including 15, 30, 45, 60 and 90 minute sessions.
Ready to learn more about massage along with your regular adjustments? We'd love to speak with you more. Contact us today to book your next visit!